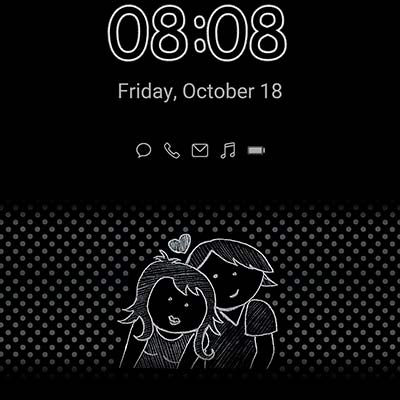 Stylish and Unique Design
This AOD by Robert Bürger is not your typical digital clock. The black background with gray dots creates a sophisticated yet modern look that will make your device stand out. The pencil drawing of a young couple in love adds a touch of romance, making this AOD a perfect choice for those who love art and want to express their unique style.
Customizable for Your Device
The Dots AOD is available for Huawei and Samsung, which means you can enjoy this stylish design on your device no matter which brand you prefer. The AOD is also customizable, allowing you to adjust the brightness and style of the clock according to your preference. You can choose from a variety of clock styles, including digital and analog, to fit your style and needs.
Long-Lasting and Practical
Not only is the Dots AOD stylish and customizable, but it is also practical. The AOD is designed to be energy-efficient, which means it won't drain your device's battery quickly. With this AOD, you can have a beautiful clock on your device without worrying about your battery life. Plus, the AOD is made with high-quality materials, ensuring it will last for a long time.
To download this AOD: open the Huawei Designs App, search for Robert Bürger and select the AOD category