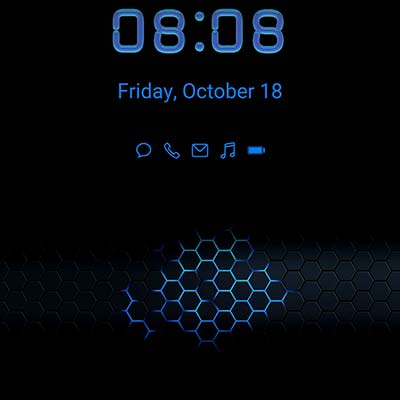 Illuminate your screen with a captivating honeycomb pattern
The Glow Pattern AOD by Robert Bürger is a stunning addition to your phone's lock screen. The blue glowing web creates a mesmerizing honeycomb pattern that catches the eye and sets your device apart from others. With its unique and innovative design, the Glow Pattern AOD is the perfect way to add a touch of personality to your phone. Whether you're checking the time, waiting for a notification, or simply admiring the beauty of your screen, the Glow Pattern AOD is sure to impress.
Experience a screen that's always on and always glowing
Say goodbye to boring, static lock screens with the Glow Pattern AOD. This AOD features a blue glowing web that is constantly in motion, creating a dynamic and mesmerizing effect. Not only is the Glow Pattern AOD visually stunning, but it is also functional. With its always-on display, you'll never miss an important notification or message again. And, with the option to customize the pattern's brightness and display duration, you can tailor your Glow Pattern AOD experience to your preferences.
Compatible with your device and easy to install
The Glow Pattern AOD is available for both Huawei and Samsung devices, making it a versatile and accessible option for phone users. And, with its easy installation process, you can start enjoying your new lock screen in just minutes. Simply download the Glow Pattern AOD app, select the pattern and options you want, and set it as your lock screen. It's that simple!
To download this AOD: open the Huawei Designs App, search for Robert Bürger and select the AOD category