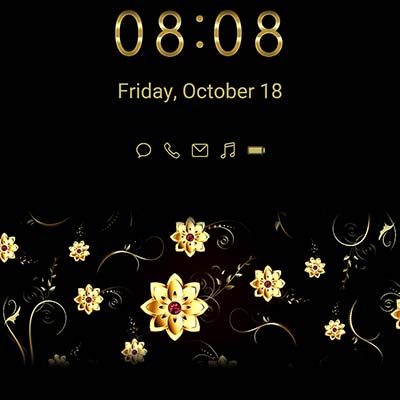 Are you in search of a new and sophisticated phone accessory that will add a touch of elegance and femininity to your device? Look no further than the Golden Flowers AOD! With its stunning gold floral design and sleek black background, this AOD is the perfect combination of style and functionality.
Unleash Your Inner Fashionista
The Golden Flowers AOD is a must-have accessory for anyone who values style and elegance. This stunning phone accessory is designed with a gorgeous gold floral pattern that is sure to turn heads wherever you go. Whether you're at work, out with friends, or just running errands, the Golden Flowers AOD will help you make a statement and stand out from the crowd.
The Perfect Blend of Form and Function
Not only is the Golden Flowers AOD incredibly stylish, it's also highly functional. This AOD is designed to fit seamlessly with your Huawei or Samsung device, ensuring that you can access all of your phone's features with ease. The sleek black background makes it easy to read your notifications, while the stunning gold floral design adds a touch of elegance to your phone's display.
A High-Quality Accessory You Can Rely On
When it comes to phone accessories, quality is key. That's why the Golden Flowers AOD is made by Robert Bürger, a leading name in the industry. This AOD is designed to last, so you can enjoy its stunning design and functionality for years to come.
To download this AOD: open the Huawei Designs App, search for Robert Bürger and select the AOD category