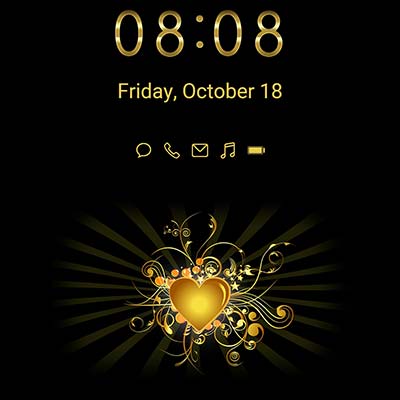 Add Elegance and Feminine Touch to Your Smartphone with Golden Heart AOD
Are you looking for an elegant and feminine AOD for your Huawei or Samsung smartphone? Look no further than the Golden Heart AOD! This AOD features a stunning golden heart from which beautiful flowers and flourishes emerge. The gold and black design of the AOD is perfect for those who want to add a touch of sophistication to their phone.
Made by Robert Bürger: Quality and Style Combined
The Golden Heart AOD is not only beautiful, but it is also made by renowned artist Robert Bürger. Bürger is known for his attention to detail and his commitment to producing high-quality products that are both functional and aesthetically pleasing. When you purchase a Golden Heart AOD, you can be confident that you are getting a product that is not only beautiful but also durable and reliable.
Customize Your Smartphone with Golden Heart AOD
The Golden Heart AOD is available for both Huawei and Samsung smartphones, so no matter what type of device you have, you can enjoy the beauty and elegance of this stunning AOD. With its unique design, the Golden Heart AOD is sure to turn heads and make your phone stand out from the crowd. Plus, it's easy to install, so you can start enjoying its beauty right away.
To download this AOD: open the Huawei Designs App, search for Robert Bürger and select the AOD category