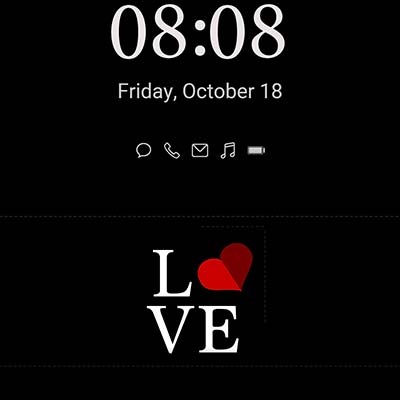 Fall in Love with Your Phone Screen
Looking for a way to spice up your phone screen and add a touch of love to it? Look no further than LOVE AOD! With its eye-catching lettering and heart symbol, LOVE AOD is the perfect way to express your love for someone special, or simply add some personality to your phone.
Our designers have carefully crafted the LOVE AOD lettering to be both elegant and playful, with a heart symbol that perfectly captures the feeling of love. The white and red colors stand out beautifully against a black background, making your phone screen truly unforgettable.
Whether you're a Samsung or Huawei user, LOVE AOD is compatible with both brands and is easy to install. Once you see how stunning it looks on your phone screen, you won't be able to resist falling in love with LOVE AOD.
Personalize Your Phone with Love
At LOVE AOD, we believe that your phone should be an extension of your personal style, and what better way to show off your individuality than with our LOVE AOD design? Our product is the perfect way to personalize your phone and make it truly your own.
The LOVE AOD design is simple yet striking, making it perfect for users who want to add a touch of elegance and romance to their phone screen. The heart symbol is a universal symbol of love, and with LOVE AOD, you can express your feelings every time you look at your phone.
Whether you're looking to upgrade your phone's appearance or surprise someone special with a thoughtful gift, LOVE AOD is the perfect choice. With its high-quality design and easy installation process, LOVE AOD is the perfect way to personalize your phone with love.
Expertly Designed for Your Phone
At LOVE AOD, we understand that your phone is an essential part of your life, which is why we've designed LOVE AOD to be the perfect complement to your device. Our product is made with the highest quality materials and is designed to fit perfectly on your phone screen.
LOVE AOD is available for both Huawei and Samsung devices, and our expert designers have ensured that the product is compatible with all screen sizes and shapes. The installation process is quick and easy, and once installed, you'll be amazed at how seamlessly LOVE AOD integrates with your device.
With LOVE AOD, you can trust that you're getting a high-quality product that is both durable and stylish. Our product is made by Robert Bürger, a trusted name in the industry, and we're confident that you'll love the way it looks on your phone.
To download this AOD: open the Huawei Designs App, search for Robert Bürger and select the AOD category