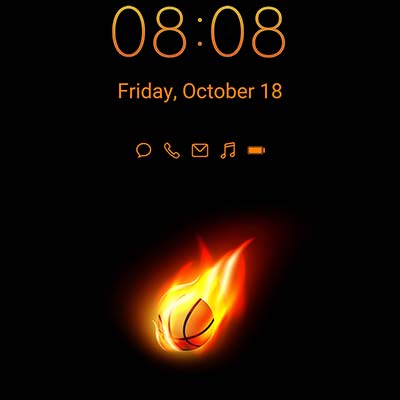 Ignite Your Screen with the Basketball AOD
The Ultimate Phone Accessory for Basketball Fans: Get ready to set your phone on fire, literally! With the Basketball AOD, experience the thrill of the game every time you unlock your phone.
Fiery Design: Featuring a stunning basketball engulfed in flames set against a black background, this AOD is a must-have for those looking to add some excitement to their phone. The orange, yellow, and red color scheme perfectly captures the intensity of the game.
Made with Care: The Basketball AOD was designed by Robert Bürger, a passionate basketball fan who created this AOD to showcase his love for the sport. Made with high-quality materials, this AOD is available for both Huawei and Samsung phones.
Unleash Your Competitive Spirit with the Basketball AOD
Basketball Anytime, Anywhere: With the Basketball AOD, you can stay connected to the game even when you're not on the court. Show off your love for basketball and unleash your competitive spirit with this stunning AOD.
Elevate Your Phone: The Basketball AOD is not just a regular phone accessory. It's a statement piece that takes your phone to the next level. Impress your friends and teammates with this one-of-a-kind AOD that truly showcases your love for the game.
Perfect Gift: Looking for a gift for your basketball-loving friend or family member? Look no further than the Basketball AOD. It's a unique and thoughtful gift that will be appreciated by any basketball fan.
Score Big with the Basketball AOD
Easy to Install: Don't worry about complicated installation processes. The Basketball AOD is easy to install and comes with simple instructions. In just a few minutes, you can have this stunning AOD on your phone.
Protect Your Screen: The Basketball AOD not only looks great, but it also protects your phone screen from scratches and cracks. With this AOD, you can keep your phone safe and stylish.
Guaranteed Satisfaction: We stand behind the quality of our products and are confident that you'll love your Basketball AOD. If for any reason you're not satisfied, we offer a hassle-free return policy.
To download this AOD: open the Huawei Designs App, search for Robert Bürger and select the AOD category