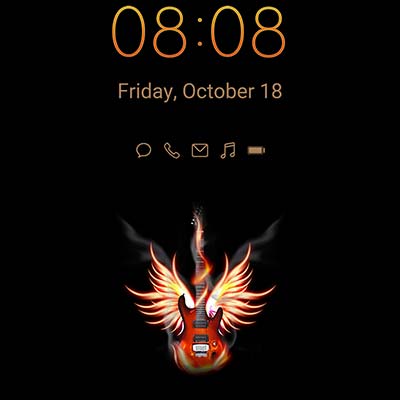 Burning Guitar AOD: A Must-Have for Music Lovers!
Introducing the Burning Guitar AOD, a stunning piece of art created by the talented Robert Bürger. This AOD (Always-On Display) will take your device to the next level, adding a touch of style and personality to your Huawei or Samsung Smartphone.
The Burning Guitar AOD features a beautifully designed burning guitar with burning angel wings. This unique design will make your device stand out from the rest and show off your love for music and art. Whether you're at home, at work, or on the go, this AOD will bring a smile to your face every time you look at your device.
No features? No problem! This AOD is all about style, and it delivers that in spades. It's the perfect accessory for those who love to express their individuality and make a statement with their devices. And, with the Huawei and Samsung Galaxy Store availability, it's never been easier to get your hands on this amazing piece of art.
Don't miss out on the opportunity to add some fire to your device with the Burning Guitar AOD. This AOD is the perfect addition for music lovers, art enthusiasts, and anyone who wants to add a touch of personality to their device. So, why wait? Get your hands on this amazing AOD today and show off your love for music and art!
Get your Burning Guitar AOD now and add a touch of fire to your device! Available on the Huawei and Samsung Galaxy Store."