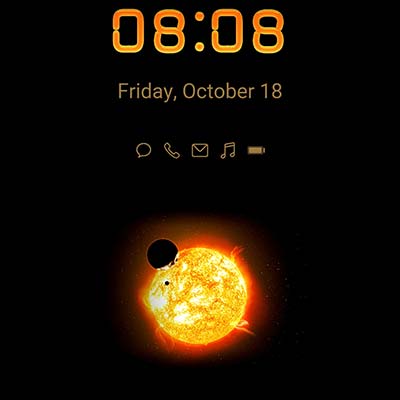 Are you looking for a captivating and unique way to customize your smartphone? Look no further than the Sun AOD! Created by Robert Bürger, this AOD features a stunning image of the sun shining brightly against a black background. With options available for both Huawei and Samsung devices, the Sun AOD is the perfect way to add a touch of personality to your phone.
Brighten Up Your Device with the Sun AOD
Stand out from the crowd with this vibrant and eye-catching AOD featuring a stunning image of the sun
Available in both orange and red, choose the color that best matches your personal style
Made with high-quality materials to ensure long-lasting durability
Experience the Benefits of a Customized AOD
A customized AOD is a great way to express your individuality and make your device feel truly your own
With the Sun AOD, you'll never have to settle for a boring, generic AOD again
Enjoy the benefits of a unique and personalized AOD every time you check your phone
Get the Perfect Fit for Your Device
The Sun AOD is available for both Huawei and Samsung devices, ensuring a perfect fit for your specific phone model
Easy to install and remove, you can switch up your AOD as often as you'd like
Choose the Sun AOD for a customized and personalized touch to your smartphone.
To download this AOD: open the Huawei Designs App, search for Robert Bürger and select the AOD category