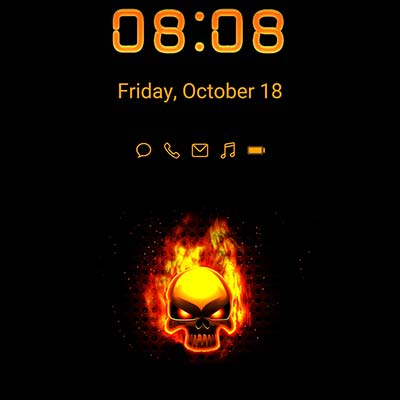 Unleash Your Fiery Side with Burning Skull AOD
Are you looking for a way to express your bold and daring personality through your phone's wallpaper? Look no further than the Burning Skull AOD! This AOD displays a skull that is on fire, creating a fierce and intense display of red, yellow, and orange colors. With this AOD, you can showcase your individuality and add a unique touch to your phone that will make it stand out from the crowd.
Experience the High-Quality Design of Robert Bürger
When it comes to phone accessories, quality is everything. That's why the Burning Skull AOD is a must-have for any phone owner who values craftsmanship and durability. Made by the renowned designer Robert Bürger, this AOD is expertly crafted using the finest materials to ensure that it withstands daily wear and tear. Plus, its eye-catching design is sure to turn heads and make a lasting impression.
Compatible with Your Device for Easy Personalization
At Burning Skull, we understand that personalization is key when it comes to phone accessories. That's why we've made sure that the Burning Skull AOD is compatible with both Huawei and Samsung devices, so you can easily add it to your phone's lock screen. Whether you're looking to add some fiery flair to your phone or just want a wallpaper that stands out, the Burning Skull AOD is the perfect choice.
To download this AOD: open the Huawei Designs App, search for Robert Bürger and select the AOD category