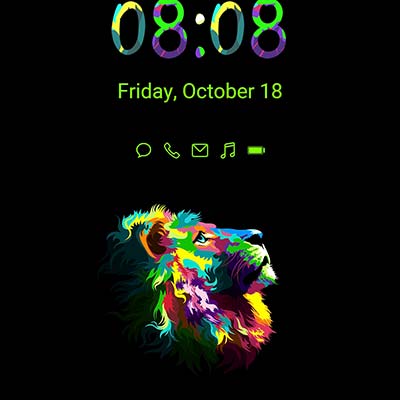 Vivid and Eye-catching Display
The Color Lion AOD is a must-have for any Samsung or Huawei device user. The AOD displays a colorful and chic lion head that adds a touch of elegance to your device's lock screen. With a vibrant and eye-catching display, this AOD is sure to turn heads and make your device stand out from the crowd.
High-Quality Design
Made by the renowned designer Robert Bürger, the Color Lion AOD is a premium product that boasts high-quality design and exceptional craftsmanship. The AOD is available in a variety of colors that will suit any style, and it is compatible with both Samsung and Huawei devices. The design is not only visually appealing but also durable, ensuring that your device is protected and looks great for years to come.
Personalized Experience
With the Color Lion AOD, you can personalize your device in a unique and stylish way. The AOD allows you to set your own images as the background, providing you with the flexibility to express your personality and individuality. The AOD also has a range of display options that allow you to customize the look and feel of your lock screen, giving you a personalized experience that is tailored to your preferences.
To download this AOD: open the Huawei Designs App, search for Robert Bürger and select the AOD category