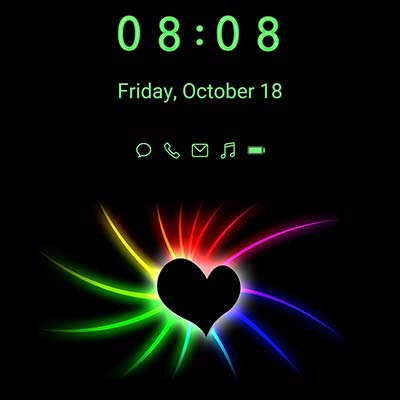 Are you tired of plain, boring, and monotonous AOD screens? Look no further than the Color Heart AOD! Made by Robert Bürger, this AOD features a stunning black heart with colorful rays emanating from it, sure to catch the eye and brighten up your phone's lock screen.
Vibrant Colors Subheading: Experience the Rainbow
The Color Heart AOD's vibrant and colorful rays will take your breath away. With its rainbow of colors, this AOD will bring a splash of brightness to your phone's lock screen, making it stand out from the crowd. You'll feel a sense of joy and happiness every time you see your phone light up with this colorful and captivating AOD.
Expressive Design Subheading: Show Your Personality
The black heart in the center of the Color Heart AOD is a powerful symbol of love, passion, and emotion. Its colorful rays represent the expression of those emotions, making it a perfect AOD for those who want to show their personality and stand out from the crowd. It's a great way to express yourself and make a statement with your phone.
Compatibility and Quality Subheading: Made to Last
The Color Heart AOD is available for both Huawei and Samsung phones, ensuring compatibility with a wide range of devices. Made by Robert Bürger, this AOD is crafted with the utmost care and attention to detail, ensuring high-quality graphics and longevity. You can rest easy knowing that your Color Heart AOD will look amazing on your phone for years to come.
To download this AOD: open the Huawei Designs App, search for Robert Bürger and select the AOD category