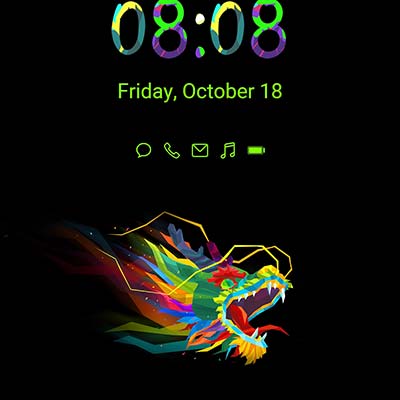 Experience a Vibrant Display
Looking for a way to make your phone screen come alive? Look no further than the Color Dragon AOD. With a stunning dragon of all colors, this AOD will take your screen from dull to dynamic. The sharp teeth and long red tongue of the dragon add an extra touch of ferocity to your device. Impress your friends and stand out from the crowd with this unique AOD.
Protect Your Device in Style
Not only does the Color Dragon AOD add a vibrant touch to your device, but it also offers protection. Made by Robert Bürger, this AOD is durable and made to last. It's the perfect addition to your device if you're looking for a way to keep it safe without sacrificing style. The dragon design will make your device stand out, while also providing the protection you need.
Compatible with Top Brands
The Color Dragon AOD is available for both Huawei and Samsung devices, making it a versatile choice for any user. You don't have to worry about compatibility issues or finding the right fit for your device. Plus, with the AOD feature, you'll be able to easily see important information without having to unlock your phone. It's the perfect way to stay connected and stylish at the same time.
To download this AOD: open the Huawei Designs App, search for Robert Bürger and select the AOD category