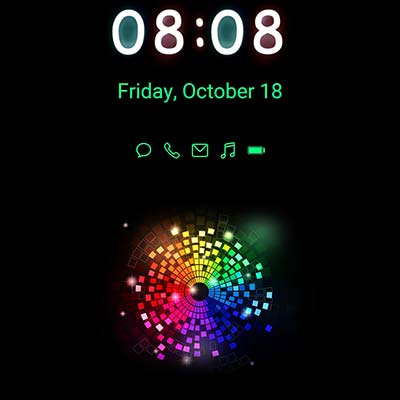 Transform Your Phone Into a Disco Ball
With the Disco Lights AOD, you can turn your Huawei or Samsung phone into a party machine. The AOD, or Always-On Display, shows off colorful disco lights that look like a miniature disco ball right on your phone's screen. The lights are vivid and eye-catching, and the effect is sure to impress your friends and family. The Disco Lights AOD is the perfect accessory for anyone who loves to party or wants to add a little extra excitement to their everyday life.
Easy to Use and Customizable
The Disco Lights AOD is incredibly easy to use. Simply download the AOD app and activate it on your phone. You can customize the disco lights to your liking, choosing from a range of colors and patterns. The app also allows you to adjust the brightness and speed of the lights, so you can create the perfect ambiance for any occasion. The Disco Lights AOD is also energy efficient, so it won't drain your phone's battery.
A Unique and High-Quality Product
The Disco Lights AOD is made by Robert Bürger, a renowned designer who specializes in creating high-quality and unique accessories for smartphones. The AOD is made with the latest technology and materials, ensuring that it is both durable and long-lasting. The Disco Lights AOD is also available for both Huawei and Samsung phones, so no matter what type of phone you have, you can enjoy the benefits of this amazing product.
To download this AOD: open the Huawei Designs App, search for Robert Bürger and select the AOD category