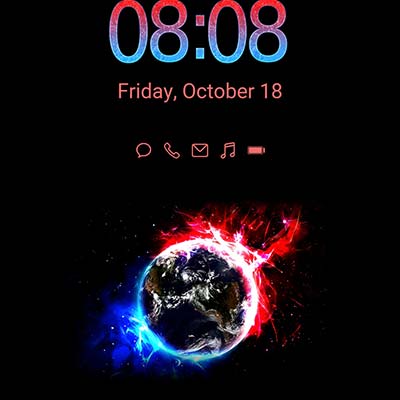 Experience the Divide
The Earth Split In Half AOD is a stunning visual representation of the planet torn in two halves, with one half in vivid blue and the other in fiery red. This unique artwork is sure to captivate anyone who sees it, and it's available exclusively for Huawei and Samsung devices. The artist, Robert Bürger, has carefully crafted this AOD to showcase the beauty of our planet while also highlighting the division that exists in our world. With this AOD, you can experience the beauty and power of the Earth split in half every time you look at your phone.
Stunning Visuals
The Earth Split In Half AOD is more than just a wallpaper for your phone; it's a work of art. The vibrant colors and intricate details of this AOD will leave you in awe. The contrast between the cool blue tones and the warm red hues creates a striking visual effect that is both powerful and beautiful. The space background adds another layer of depth to the artwork, making it truly unique. Whether you're using your phone for work or pleasure, the Earth Split In Half AOD is sure to turn heads and start conversations.
Customize Your Device
Your phone is an extension of your personal style, and the Earth Split In Half AOD allows you to showcase your unique taste. This AOD is available for both Huawei and Samsung devices, so no matter what type of phone you have, you can make it your own. The Earth Split In Half AOD is a great way to add a pop of color and personality to your device. Plus, with its high-quality resolution, you can enjoy crisp and clear visuals every time you use your phone.
To download this AOD: open the Huawei Designs App, search for Robert Bürger and select the AOD category