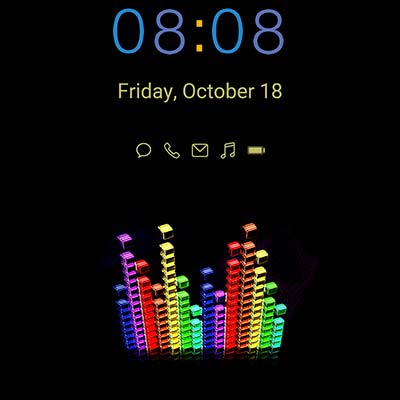 AOD with Colorful Music Bars
If you're a fan of lively and colorful displays, the Neon Music Bars AOD is perfect for you. This AOD features a stunning visual display of colorful music bars that dance to the rhythm of your favorite tunes. The bars are arranged in neat, square patterns that make for a mesmerizing viewing experience. The colors are vivid and bright, adding a pop of energy to your phone's lock screen. You can choose from a range of pre-installed designs or create your own custom patterns. With this AOD, your phone's lock screen will never be boring again.
AOD with Unique Square Patterns
If you're looking for a lock screen that stands out from the crowd, the Neon Music Bars AOD is the way to go. The square patterns of this AOD are a unique twist on traditional circular designs. The squares are arranged in neat and orderly patterns, giving your phone a touch of elegance and sophistication. The colors are bright and vivid, making the patterns pop out and catch your eye. Whether you're a fan of bold and bright colors or more subtle pastels, this AOD has something to offer.
AOD for Huawei and Samsung
The Neon Music Bars AOD is compatible with both Huawei and Samsung phones, making it a versatile choice for anyone in the market for a new lock screen. This AOD is designed to work seamlessly with both brands, ensuring a smooth and hassle-free user experience. The installation process is quick and easy, so you can start enjoying your new lock screen right away. The AOD is also designed to be energy-efficient, so you don't have to worry about draining your phone's battery.
To download this AOD: open the Huawei Designs App, search for Robert Bürger and select the AOD category