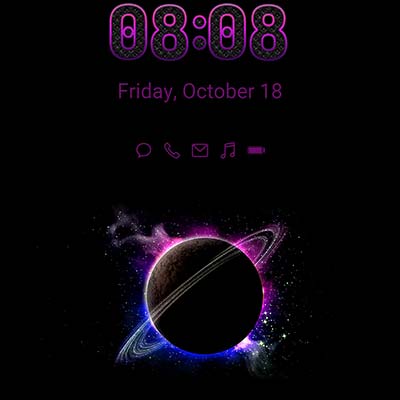 Experience a Mesmerizing Display with Planet AOD
Introducing Planet AOD – the latest addition to your smartphone's aesthetic. Created by Robert Bürger, this AOD is a stunning representation of a planet shimmering in pink and blue, set against a sleek black background. With Planet AOD, you can enjoy a mesmerizing display that is sure to turn heads.
Enhance Your Phone's Style with Planet AOD
Are you tired of your plain and boring phone display? Look no further than Planet AOD. This beautiful AOD is available for both Huawei and Samsung, and is designed to enhance your phone's style with its eye-catching design. Show off your unique personality and style with Planet AOD.
Customize Your Phone with Planet AOD
Planet AOD allows you to personalize your phone like never before. With this AOD, you can choose to display the time, date, and battery level, all while enjoying a breathtaking display. Customize your phone with Planet AOD and make it truly yours.
To download this AOD: open the Huawei Designs App, search for Robert Bürger and select the AOD category