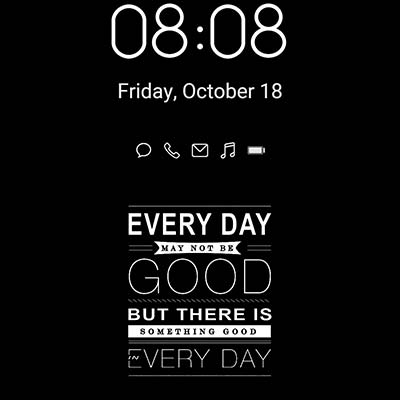 Elevate your Smartphone Experience
The Everyday AOD is a must-have addition to your smartphone if you want to elevate your experience to the next level. With a stunning design and inspiring message, this AOD (Always-On Display) is more than just a functional accessory.
Designed for Huawei and Samsung
The Everyday AOD is compatible with both Huawei and Samsung smartphones. This means that you can enjoy the benefits of this unique AOD no matter which brand you prefer. The design is carefully crafted to fit seamlessly into the look and feel of both brands.
Inspirational and Motivational
The Everyday AOD features an inspiring message that is sure to brighten your day. With the message "Everyday May Not be good, but there is Something good in every day" displayed on your smartphone, you will be reminded to stay positive and motivated throughout the day.
To download this AOD: open the Huawei Designs App, search for Robert Bürger and select the AOD category