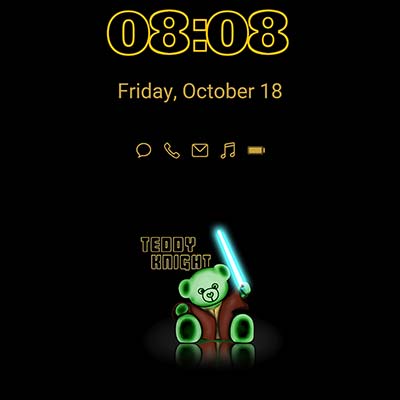 Unleash Your Inner Jedi with Teddy Knight AOD
Are you a Star Wars fan? Do you love collecting merchandise related to the franchise? If so, then you cannot miss the Teddy Knight AOD! This AOD features a teddy bear fighter with a blue lightsaber in hand, ready to take on any challenge. Not only is it an eye-catching addition to your phone's display, but it also allows you to unleash your inner Jedi every time you unlock your phone.
Experience Top-Quality AOD with Teddy Knight
Are you tired of using boring and unattractive AODs on your phone? Look no further than the Teddy Knight AOD! Made by Robert Bürger, a renowned artist, this AOD is of the highest quality, with attention paid to every detail. The colors are vibrant and striking, and the image is crystal-clear. Plus, it is available for both Huawei and Samsung phones, ensuring that you can enjoy this fantastic AOD, no matter what type of phone you have.
Make a Statement with the Teddy Knight AOD
Do you want to make a statement with your phone? The Teddy Knight AOD is the perfect way to do just that! This AOD is not just a decoration for your phone; it is a symbol of your personality and interests. By using this AOD, you are showing the world that you are a Star Wars fan and that you appreciate quality art. So why settle for a generic AOD when you can showcase your unique style with the Teddy Knight AOD?
To download this AOD: open the Huawei Designs App, search for Robert Bürger and select the AOD category